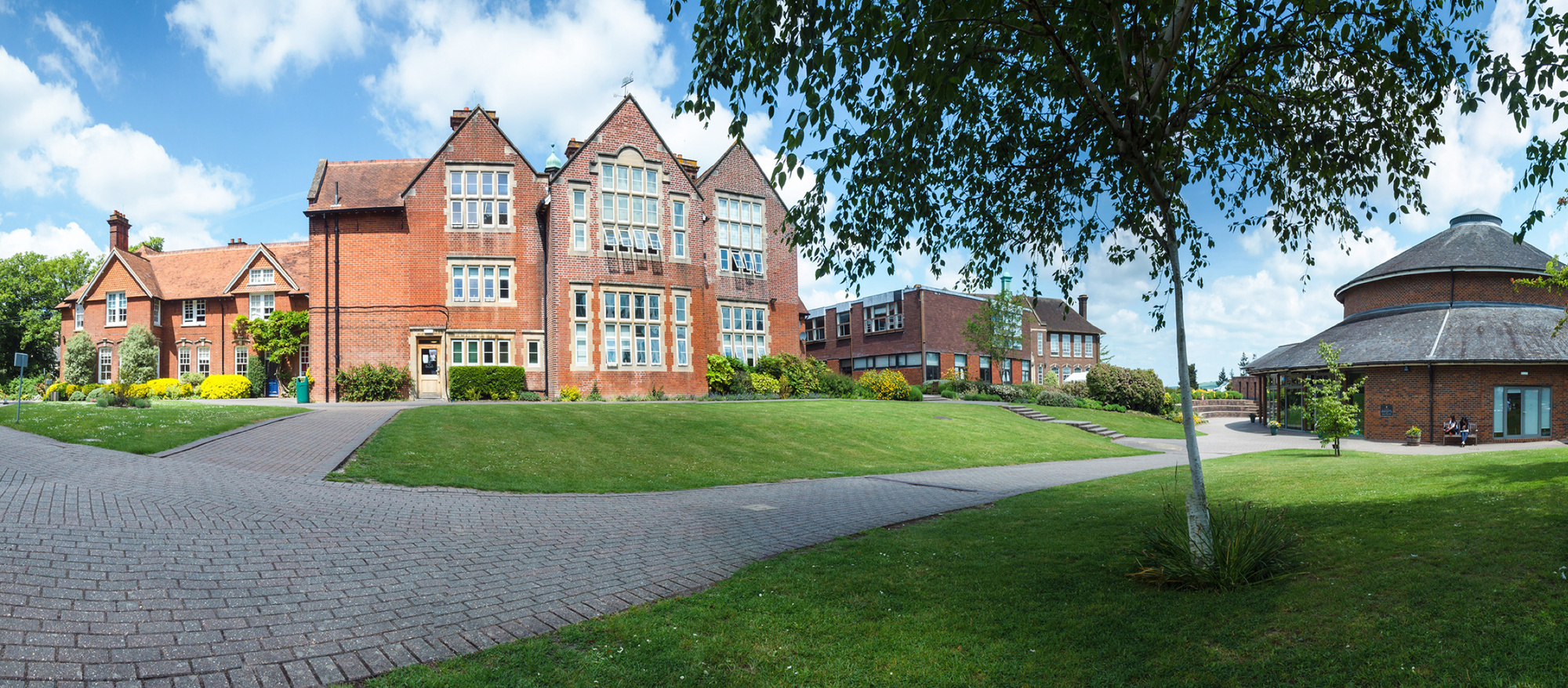 Since 2014, Emma Hattersley. Studied music at Durham before continuing on to the Royal Academy of Music. Was housemistress at Canford, moving to become deputy head of Sherborne Girls for four years before taking up her current post. Interests outside school include her two dogs, spending time with her husband, three adult children and grandchildren, and camping, with the recent acquisition of a camper van. Music remains a passion as does gardening, and she enjoys comparing notes – horticultural, not musical – with the school's head gardener. A stroll around the immaculate school grounds would suggest that he doesn't needs any tips.

As head of a historic all-girls school Mrs Hattersley sees her role as a juggling act. She's conscious of treasuring the school ethos and values, while keeping pace with today's social and educational demands. Acknowledges the need to look at education in the round, attaching importance to both academic and personal skills, creative and STEM subjects. 'If we're preparing girls for the real world and want more women to go into scientific subjects, having that creative element will bring something slightly different to the table. You want imaginative scientists, who can contribute to a team.' It's a lot of balls to have in the air, but her calm and thoughtful manner reassures that she's more than able to cope.

She lists greater collaboration with local schools, moving forward on digital engagement, and mental health and wellness of students as the priorities on the strategic plan. On this latter point she is a firm believer that 'if the emotional support is right, success will follow'. Has a strong rapport with students, with a self-professed soft spot for the underdog. She is committed to building strength of character and resilience through engendering a happy atmosphere, in which girls feel safe to stretch themselves and build their confidence. All evidence suggests she's getting it right. Parents enthuse about her 'super impressive' and 'forward thinking' approach, and the school is often chosen by families because of her performance and this focus. She is approachable and has breakfast, lunch and tea in small groups to get to know girls better. Her door is open, even, one struggling parent reports, her front door during the summer holidays.
Entrance
Described as 'softly selective'. Majority of girls transition from Godolphin prep, but for new candidates at 11+ and 13+ entry there is an assessment day in which papers in English and maths are taken plus interview with head or senior member of staff and reference taken from existing school. Sixth form entrants are expected to gain at least five GCSEs at grade 5 with a minimum of 7 in proposed A level subjects, plus interview and exams.
Exit
Around 20 per cent leave post-GCSE. Around half of sixth form go onto Russell Group universities choosing courses ranging from engineering and international relations to history of art. Some to art college and foundation courses. One to Oxbridge in 2020.
Latest results
In 2020, 64 per cent 9-7 at GCSE; 60 per cent A*/A at A level (85 per cent A*-B). In 2019 (the last year exams took place) 50 per cent 9-7 at GCSE; 29 per cent A*/A at A level (58 per cent A*-B)
Teaching and learning
Not that this was explicitly said, but we suspect the mantra should be that Godolphin aims for girls to be the best that they can be, rather than hothoused to be the best. While academic results have fluctuated from year to year, head says she's 'never too fussed' by league tables and results and points instead to the fact that the school is in the top seven per cent for value added.

Girls across the academic spectrum, both in terms of ability and interest, are catered for. In the sixth form, performing arts BTEC and level 3 food technology are offered alongside core STEM subjects, further maths and classics, and the increasingly popular psychology and geology. French, German and Spanish are available, with Mandarin as an optional GCSE. Take up of STEM subjects is healthy, beating the national average for girls taking science subjects at A level by 20 per cent.

One parent reported the school's willingness to accommodate different courses, 'no matter how small the class'. No one area outshines the others (although art seems extremely popular and roughly half take art GCSE). The school science quiz is as big an event as the performing arts competition.

There is a scholars' programme for able students, centred around additional lectures designed to stimulate intellectual curiosity. These take place on Friday afternoons which must be a pretty tough sell, but hard to find space in a packed extra curricular timetable.

The Bright Futures career programme is ably supported by a thriving alumnae network. Recent leavers are more than happy to come back and share their stories of the great wide world, while parents and alumnae with more years' experience under their belt contribute to Find Your Future Friday, discussing their career paths. We were struck by the number of former pupils who are now parents, teachers or support staff. It all contributes to an overarching sense of a happy, enduring family.

As part of the digital drive, years 7-10 use Microsoft surface Pros in the classroom, dispensing with the need for exercise books. A happy (presumably less so for students) consequence of this shift is that girls no longer need their phones in school.
Learning support and SEN
Just under a fifth of girls receive SENCo support and the school is well equipped to cope. 'Any girl who comes under learning support is literally just scooped up,' says one grateful parent. Housed in a separate building, the department offers a safe haven. Head of learning support also gets five star reviews, with one parent commenting that their daughter 'is on an upward trajectory', despite on occasion the department's positive input not being matched by all subject teachers (an issue that was resolved). Specialist maths teacher offers one-to-one support. Girls are steered towards the most appropriate GCSEs and personal support extends to finding the most suitable exam board, this level of attention leaving another parent 'with absolutely zero worries'.
The arts and extracurricular
This is where the school comes into its own. The impressive arts block is a magnet for a wealth of creative talent. Hugely impressive artwork adorns the walls and most available spaces. The breadth and depth of areas covered – ceramics, fashion and textiles, painting drawing and printmaking, 3D design – must help retain interest and could account for the large take-up to GCSE and A level. Exposure to visiting artists from an early age means that girls are confident to approach practising artists for advice when compiling their portfolios. And confident they are. Former pupils are on hand to talk through their success at gaining places at Central St Martins, City & Guilds and the like.

A smart performing arts centre hosts performances, including student-led and whole school musicals such as Made in Dagenham. Music department offers a range of options, from the highly regarded vocal ensemble to the open to all-comers choir. Instrumentalists can join orchestra, concert band and a strong (award-winning) chamber music section. Numerous opportunities to perform throughout the year, including at Salisbury Cathedral with which the school has a close connection.

For those who prefer the great outdoors, CCF beckons and Godolphin has the largest all girls CCF contingent in the country. Alongside the novelty of muddy faces, khaki kit, and activities such as canoeing and raft building there is also the highly demanding Ten Tors challenge, to which the school regularly sends teams.

Unique to the school is the Elizabeth Godolphin award, a compulsory sixth form programme conceived by Mrs Hattersley. It combines academic enrichment with practical skills such as car maintenance, presentation and interview skills, digital competence and cultural appreciation. She believes that the sixth form programme develops girls into great role models for the younger years. Having seen the friendly but authoritative way in which our guide (who was not a prefect) moved girls blocking the stairs, we tend to agree.
Sport
Lacrosse and netball take centre stage through winter, moving over for athletics, cricket and tennis in the summer. After school clubs ensure that there is a multitude of other options available, anything from handball and fencing to basketball and touch rugby. Other sports that don't fit easily into the programme are supported through financial assistance and flexible timetabling – something the equestrian team and international standard hammer thrower are taking full advantage of.

Competitive sport took a hit during the COVID pandemic – an unfortunate time for the new sports director to have arrived – but matches are generally played midweek for netball and Saturdays for lacrosse (means talented girls can play both). Sports staff have to fight hard against competing interests in the timetable and are pushing a 'commitment culture'. Regular opponents include Sherborne Girls, St Mary's Calne, Guildford High and Cheltenham Ladies. Facilities include a 25-metre swimming pool and a small gym, packed with exercise equipment. There's also a sports hall, three lacrosse pitches that double up as athletics track and grass tennis courts in the summer, and four hard court netball courts. Not bad at all for a school this size.
Boarders
Just over a third board. Split into three houses, Walters for lower school (8-13), Cooper for senior school (13-16) and School House for sixth form. Weekly boarding is a popular option for local parents, with full boarders in the minority (around 15-20 out of 90 in Cooper), and no plans to try and increase this number – that would 'not be Godolphin.' House staff live on site and accommodation for girls ranges from bunk beds in Walters to a mix of single and shared rooms for sixth formers. All are clean and at teenager standards of tidy. Large communal areas (known as the Sit) allow the house to gather together for activities.

Positions of responsibility include an international rep to act as a link for new international girls when they arrive. Prefects can run some evening activities, attend house council meetings and, touchingly, are also in charge of birthday cards and flowers for cleaning and residential staff.

Activities, somewhat curtailed during the pandemic, include yoga, karaoke, movies. For full boarders, weekend activities can include ice skating, and trips to theme parks, although some parents think that a few more interesting activities might encourage more to stay.

In senior school, electronic devices are taken in an hour before bed. Staff are wise to attempts to flout the rule and have a drawer full of confiscated alternative devices.
Ethos and heritage
Founded in 1726 by Elizabeth Godolphin, the school moved to its current 16-acre site in 1891. It benefits from being on the edge of Salisbury, allowing easy access to town for girls and yet providing stunning views over the downs. The original main hall and two classrooms remain but have been joined by modern accoutrements – everything from the performing arts centre to the sixth form café. The gothic hall, now a little too small to accommodate the whole school, is adorned by portraits of fearsome looking former heads. We wondered what those heads would think of today's more welcoming, less tight-lipped Godolphin.

The emphasis is on community. One of head's first tasks was to refurbish the lower school locker area and transform it from 'a horrible spot with metal lockers' to a bright and airy social space with tables and chairs to encourage group chatting. There are currently 400 students on roll, with no plans to increase that number and risk losing the family feel. The school can still gather together three times a week, for example. However, there are murmurings that widening the community to include more interactions with boys' schools would be a good thing. Social events are limited and in one parent's view, more debates with boys might add perspective to some of the more strident views held.

School doesn't take itself too seriously. Annual 'Muckup' day, when the departing upper sixth have a licence to run amok, is tolerated with a smile – even when head finds herself barred from her office by string covering the door. Similarly, Ents, an annual play in which pupils parody the staff, has the potential to go horribly wrong, but so far as we know hasn't – yet.

Pinnies are another tradition. Blue pinafores (or special pink ones for birthdays) are worn by all girls below sixth form over the top of their uniforms, a quirky feature that contributes to the feeling of togetherness and perhaps a slightly old-fashioned vibe that appeals to some parents, 'There's no sassiness, it's more idyllic St Trinian's', commented one.
Pastoral care, inclusivity and discipline
Parents universally agree that pastoral care is a core strength. Care meetings at which every girl is discussed occur fortnightly with deputy head, house staff, heads of year, and SENCo. The pastoral team, which includes pastoral lead, school nurse and chaplain, is on hand to support girls and is highly rated by parents. Girls talk freely about the level of support on offer, both from staff and each other. A new equality, diversity, and inclusion officer will further strengthen the team. Mealtimes are monitored with staff eating with the girls, and the school catering team provide additional nutritional guidance.

Mental health and wellness taken extremely seriously and led from the top. School organises the well-received GoParent, a day conference for parents and extended to the whole of Salisbury, at which visiting speakers give advice on issues such as self-harm, eating disorders and confidence building. Upper sixth are trained in mental health first aid, and available to offer help to local primary schools.

Girls understand and respect the boundaries and tend to self-regulate, even down to the rare smokers who, says one sixth former, 'we told to stop'. One expulsion in the last four years (social media incident).
Pupils and parents
Parents mainly local, even boarding parents who enjoy the flexibility of weekly boarding to fit around work commitments. Many are attracted by the lack of glitz and glamour - absence of long sweeping drives and rows of Range Rovers in car park is seen as a bonus. So too are its traditional values, 'I like the fact that it's old fashioned and girls stay girls for longer,' said one parent. 'Not a very worldly school,' said another, swiftly followed by, 'It's a bit of a gem and we're lucky to have it close by'. Unworldly does not mean shy and retiring; girls struck us as confident (without being pushy) and unpretentious.

Alumnae include Minette Walters and author Jilly Cooper, whose continuing involvement – she still writes to the girls – has led to a boarding house being named after her. TV personalities include Dragon's Den businesswoman Deborah Meaden, Katie Knapman of Countryfile, presenters Helen Bishop and Louise Beale. Plus sportswoman Ruby Smith, yachtswomen Hannah White and Nicola Rodriguez and actress Charlotte Longfield.
Money matters
Means-tested bursaries available plus HM forces and sibling discounts. Scholarships confer prestige but no fee reduction.
The last word
This is a lovely, happy school. Small enough for every girl to be known as an individual but large enough for challenge and diverse opportunities. With solid academics and excellent extracurricular options, girls can grow in confidence and strength of character in a supportive environment. During our late summer visit departing sixth formers confessed to bittersweet feelings – sad to be leaving but 'completely prepared for whatever comes next.' For a head watching keenly as their students leave the nest there can surely be no better affirmation of a job well done.